If you're looking for commercial cleaning services in Lubbock, Texas, you've come to the right place. We offer comprehensive cleaning services to business owners and property managers in Lubbock and the surrounding area. With years of experience and industry expertise, we strive to provide the best service possible. Read on to learn more about our services and how we can help keep your business clean and sanitary.
Introduction to Commercial Cleaning Services in Lubbock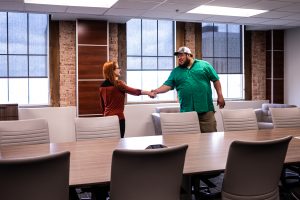 Professional cleaners are trained to use the most effective methods and techniques to ensure your premises are always clean, safe, and hygienic. Office janitor services can help you keep your workplace in tip-top shape with regular cleaning and maintenance. From daily floor mopping and garbage disposal to window washing, deep cleaning, and more, they've got your needs covered. Not only do they make sure your office is clean and sanitary, they can even help you maintain a pleasant atmosphere with deodorizing and air purification services. Professional cleaners can help you keep your office looking its best and give you peace of mind.
Commercial cleaning services provide a comprehensive range of cleaning and janitorial services for businesses, from basic office cleaning to specialized deep-cleaning services. If you are in need of a reliable and trustworthy cleaning service in Lubbock, let's talk soon about your needs. When you hire our professional cleaning service, you can be sure that your business is receiving the highest quality services available. Whether it's regular janitorial services, or deep cleaning services, you can count on your cleaning service in Lubbock to get the job done right. Not only will the job be done well, but you'll have peace of mind knowing that your business is clean and hygienic for employees and customers alike.
Advantages of Professional Cleaning Services
Professional cleaning services are convenient, reliable and efficient, saving you time and energy. If you're looking for a quality cleaning service in Lubbock, you're in luck! There are plenty of experienced and professional companies to choose from. Many of them offer competitive rates and can customize their services to meet your specific needs. With a cleaning service like Circle A, you can be sure that your office will be sparkling clean and free of dirt, dust, and germs. You'll have more time to spend on the things that matter most, and less stress about the mess. So don't delay, call us today!
Our services use the latest cleaning technologies and products, ensuring that the job is done right the first time. Circle A Custom Commercial Cleaning service in Lubbock has been a trusted source for many businesses for years. We provide top of the line service and professionalism. From floor to ceiling to make sure that your space is sparkling clean. We believe that a clean business is critical for a healthy and productive environment. Our attention to detail and dedication is what sets us apart in the industry. Whether you need a one-time deep clean, or an ongoing service, we have you covered.
Health and Safety Benefits of Professional Cleaning
Professional cleaning services reduce the risk of allergens and other harmful bacteria by utilizing advanced sanitization techniques. Circle A Custom Commercial Cleaning service in Lubbock is known for our carefully tailored solutions to meet the specific needs of each client. We offer a wide range of cleaning services and use the latest, most efficient technologies available to ensure a thorough clean. This extends from basic services like vacuuming, mopping, and dusting all the way to deep cleaning and sanitization services. We take great pride in our work and are committed to providing a safe and healthy environment for all.
Professional commercial janitorial services can help to create a healthier work environment. They reduce the spread of germs and minimize the risk of illnesses, both of which are important factors in promoting a healthy and safe working environment. By hiring professional cleaning services, businesses can benefit from healthier and more productive employees who take less time off and get more work done.
How to Choose a Reliable Commercial Cleaning Service in Lubbock, TX
First, choose a service that can accommodate your specific needs and schedule, while also ensuring quality results. Cleaning services come in many forms, so it's important to find one that is tailored to your unique requirements. Whether you need a weekly deep clean, a one-time job, or even a specialized service like window cleaning or floor care, we can provide the service you need.
Look for a commercial cleaning service with experience in the Lubbock area that can tailor a cleaning plan to you. When you're in need of a reliable and experienced cleaning service in Lubbock, you want to make sure you're getting the best value for your money. It's important to find a cleaning service that can adapt to your needs and offer a plan that will meet your budget and the specific needs of your business. Make sure you find a cleaning service with the expertise and tools to get the job done right. With the right cleaning service, you'll know your business is in safe hands.
Next, it is important to research the reputation of any cleaning services you are considering. Make sure they have the necessary licenses, insurance and certifications so you know that you can rely on them for your commercial janitorial needs. The time spent investigating their credentials will be worth it if you choose a reliable service provider.  Reading online reviews can help to ensure you are getting a company you can trust. Read our reviews and customer testimonials to see what other customers have to say about our service.  We look forward to talking to you about a custom commercial cleaning services in Lubbock.